Happy Happy Halloween... Halloween... Halloween...
Happy Happy Halloween... Sil-ver Sham-rock...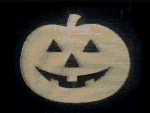 Fool, if you had a Silver Shamrock mask (from Halloween III) on your head, your skull would be turning into a mish-mash of bugs and critters right now. That'll teach you to click any link anyone asks you to check out. If it was that "Check this site out!" guy from Yahoo, you'd be up to your buttcrack with Russian computer viruses by now! Beware!
And a hastily drawn/colored appearance by Hazelle, my female Halloween mascot. Hmmm... that's one creepy pumpkin though...
Sorry that I couldn't make more zany stuff this time, but it's better than being beaten with a pillowcase full of doorknobs. Happy Halloween!