Happy Happy Halloween... Halloween... Halloween...
Happy Happy Halloween... Sil-ver Sham-rock...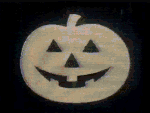 Fool! if you had a Silver Shamrock mask (from Halloween III) on your head, your skull would be turning into a mish-mash of bugs and critters right now. That'll teach you to click any link anyone asks you to check out. If this page were a trap, you'd be up to your buttcrack with Russian computer viruses or hentai tenticle pr0n pop-up ads by now! Bwahahaha... happy Halloween anyway!
Once again, I had to quickly color a picture of Hazelle, my Halloween mascot, before I had to move (just like last year). She... she doesn't seem very pleased about it either. Luckily she's a fictional character.
Anyway, I wish you all a happy and safe Halloween!